Visit page with the original article here.
The NHGRI Community Engagement in Genomics Working Group aims to engage communities to ensure that genomics and genomic medicine benefit all.
Overview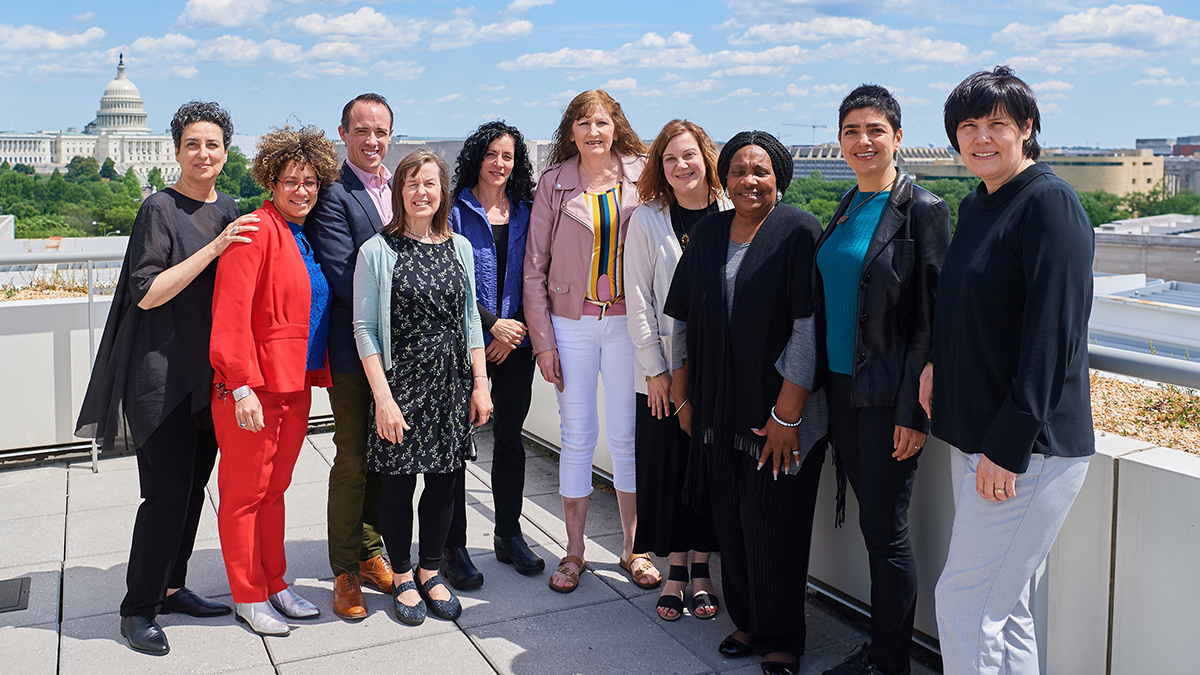 The NHGRI Community Engagement in Genomics Working Group (CEGWG) was established in 2017 as a working group of the National Advisory Council for Human Genome Research. The goals of the working group are to facilitate NHGRI's understanding of community perspectives and needs about genomics, engage and educate diverse communities about genomics, inform the leadership of NHGRI of issues relevant to its portfolio of genomics research and related programs.
The working group is comprised of community liaisons and health advocates representing diverse populations, works to accomplish its mission and goals by:
Assessing the gaps and needs of diverse communities related to genomics and genomic medicine.
Developing programs and disseminating tools and resources to address identified gaps and needs.
Providing input about the activities of the Division of Policy, Communications, and Education, particularly about their ability to reach all communities and to increase genomic literacy.
Working in partnership with NHGRI to build relationships and trust with communities and to increase understanding of diverse communal views and priorities relevant to genomics.
Identifying potential areas of synergy or collaboration among communities, NHGRI, other National Institutes of Health Institutes/Centers, and national and international organizations
Members
Chair:
Gwen Darien
Executive Vice President for Patient Advocacy and Engagement
National Patient Advocate Foundation
Members:
Kellan Baker
Centennial Scholar, Department of Health Policy and Management
Johns Hopkins School of Public Health
Jermane Bond, Ph.D.
Senior Director, Quality Measurement
National Quality Forum
Greta Goto
Life-long Alaskan
Founding Member, Prader-Willi Syndrome Alaska Parent Group
Special Projects Manager, Stone Soup Group*
Suzanne Held, Ph.D.
Professor of Community Health
Montana State University, Bozeman
Rev. Leland Jones, D.Min.
Pastor, Greater New Light Missionary Baptist Church
Alma McCormick
Executive Director, Messengers for Health
Crow Nation
Ella Greene-Moton
Community Education Coordinator
Center for Public Health and Community Genomics
University of Michigan, School of Public Health, Ann Arbor
Kate Reed
Director, Clinical and Continuing Education Program
The Jackson Laboratory
Mary Jackson Scroggins
Founding Partner, Pinkie Hugs, LLC
Co- Founder, In My Sister's Care
Maya Sabatello, L.L.B., Ph.D.
Assistant Professor of Clinical Bioethics
Department of Psychiatry
Co-Director, Precision Medicine: Ethics, Politics and Culture Project
Institute for the Study of Human Rights
Columbia University
Alicia Santiago, Ph.D.
Science Advisor and Diversity Consultant
Twin Cities PBS
* An Alaska statewide non-profit that helps support families who care for children with special needs.
NHGRI Representatives:
Carla Easter, Ph.D.
Chief, Education and Community Involvement Branch, Division of Policy, Communications, and Education
Christina Daulton, M.A.


Education Outreach Specialist, 

Education and Community Involvement Branch

, Division of Policy, Communications, and Education